Greetings!
The sound of a master quality gong induces a state of spontaneous meditation and relaxation that facilitates the movement of chi or prana (positive life energy) throughout the body. This effect promotes vitality, healing, and awakens the consciousness for transformation.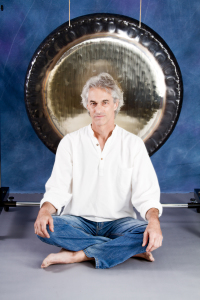 The Earth Gong Bath is offered by
Gongmaster Marco Dolce, musician, sound healer, teacher, and best-selling recording artist known as XUMANTRA, internationally-acclaimed for his work with authentic Tibetan singing bowls and gongs. His recordings are in use worldwide by yoga practitioners, alternative healers, meditators, and spiritual seekers of all types. Marco is considered a master of the contemporary uses of these miraculous instruments.
The gong bath is a one hour immersion in sacred and healing sound wherein the gongmaster activates the full sonic potential of the gong and bathes the listener with sustained waves of primordial sound. During a gong bath, listeners typically experience a sense of connectedness and peace as the sacred sound of the gong clears blockages and restores the free flow of vital energy throughout the body. Listeners have also described out of body experiences, seeing beautiful colors behind their eyes, along with symbols, images, and past life impressions. With its ability to induce a spo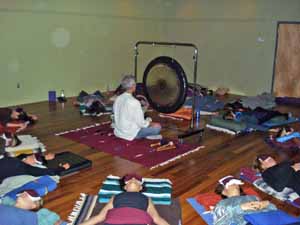 ntaneous meditative state, the gong offers listeners access to parts of the mind that are usually closed, resulting in a sense of expanded awareness and higher consciousness.
All a listener needs to do is relax and let the sound bathe the body and carry the mind.
Gong sound can be used to rebalance and tone the physical, emotional and spiritual bodies. It is an excellent therapy for stress related issues, depression, fatigue, anger and hostility, feelings of fear, separation and loneliness, along with many other conditions related to the lack of balance and harmony in the body.
Not all gongs are alike. The Earth Gong is a rare and magnificent instrument, a large, 38-inch gong harmonically tuned to the vibration of the primordial AUM, the Universal Chord, the source of all vibrations, and to the fundamental vibration of Planet Earth as she revolves around the Sun.
The Earth Gong produces an incredible depth of frequency  and harmonic complexity  that is unmatched by any other contemporary gong.